Ladders are used for various purposes in homes, warehouses, and industries. They are usually employed to help workers perform jobs at heights that are not easily accessible.
Conventional ladders are a popular choice for both domestic and industrial use, but the use of rolling ladders is rapidly increasing because they are far more convenient to use than their conventional counterparts.
Advantages of rolling ladders
Here are some of the advantages of rolling ladders that make them more attractive to use than other ladder types:
1. Greater mobility
Rolling ladders are very easy to transfer from one place to another. They can just be rolled toward the location where they are needed with very little effort, whereas other types of ladders have to be picked up and carried to the spot.
Their mobility saves valuable time because they don't have to be taken down, relocated, and set up again and helps increase the productivity of workers.
Many rolling ladders also come with swivel casters which enable them to be used in narrow passageways and congested spaces. They can be inserted into such tight spots and then extracted with very little difficulty, unlike conventional ladders which require more effort to be maneuvered into cramped spaces.
2. Enhanced safety
Rolling ladders are much safer than many other kinds of ladders. This is because they are more stable. They resemble stairs very much and have a stand-alone capability which does not require them to have any kind of support to keep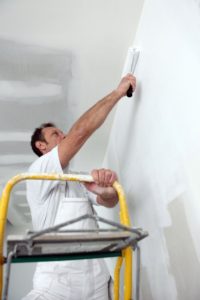 them vertically upright.
Since a rolling ladder does not need a wall to lean against, there is lesser chance that it will slip and fall over.
To provide additional safety to workers, rolling ladders are also fitted with safety railings to prevent them from falling off. The steps of these ladders can also be designed to ensure that they are skid proof. This is achieved by using a material that is slip resistant or by employing a corrugated metal coating for the stairs.
When using a rolling ladder, be sure to follow the guidelines given by the Occupational Safety and Health Administration (OSHA).
3. Convenient storage
Some rolling ladders can also be folded and stored in small spaces. These kinds of rolling ladders are vastly superior to conventional ladders as they are not only strong and durable, but also very portable and do not take up much storage space. Their versatility gives them an unbeatable edge over most other types of ladders.
If you are looking to buy quality industrial ladders, get in touch with a reliable supplier, like Factory Equipment. We offer cost-friendly aerial access solutions, such as custom rolling ladder and aircraft maintenance ladders.
To learn more about our products, call +1 727 536 6641, or email them at info@factoryequipment.net.
Top of Form