Industrial Hemp Extraction Equipment Essential Oil Distiller/CO2 Extractor 300L
CO2 Extractor Hemp Oil Extraction Machine

Industrial Hemp Extraction Equipment Essential Oil Distiller/CO2 Extractor Application:
This essential oil Distill equipment uses technology and chemical separation,can extract plant components efficiently by steam distillation , having good effect in collecting essential oil from plants.
Product Description:
This excellent and multi-functional essential oil distillation equipment can be a fabulous gift for beginners who interests in the art of distilling essential oil and hydro-sol in small batches from plants in the garden such as Lavender,Rosemary,Pine and Fir Needles,Peppermint,Eucalyptus Leaves etc.
It also be suitable for home, small business, SPA clubs, schools, labs, farms, essential oil and aromatherapy products stores.
The whole equipment design is rigorous, and can take into account of up-water distillation, in-water distillation, steam distillation. It is a three general-purpose distillation equipment, suitable for the essential oil and pure dew for all kinds of flowers and trees.
The material of exposed parts of raw materials and finished products is 304 stainless steel, compared with traditional equipment, the quality of essential oils and pure dews has been significantly improved.
Product Characters: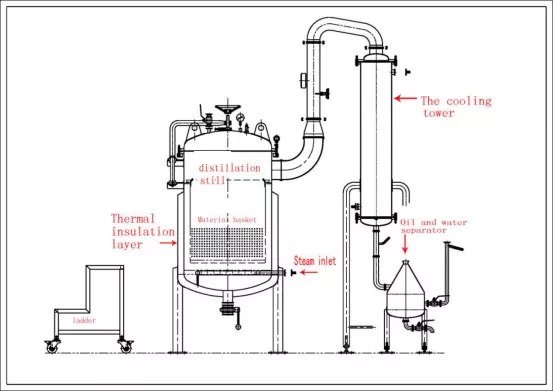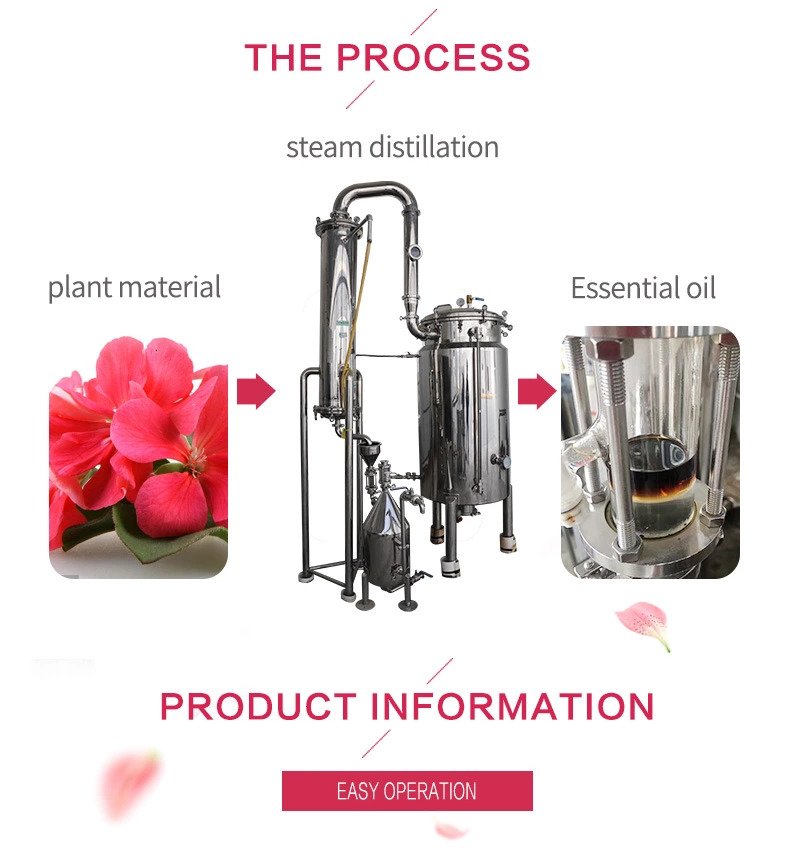 Product Structure:
The device consists of inverted vertebral distillation kettle, demister, condensing tower, oil-water separator, double filter, supercharger, material conveyor belt and essential oil, pure dew collection tank, pure dew storage tank, food grade pump and other related pipelines composition.
Equipment internal surface polishing Ra≤0.6μm,Outer surface matte treatment Ra≤0.8μm,To ensure that no health dead ends, in line with GMP requirements.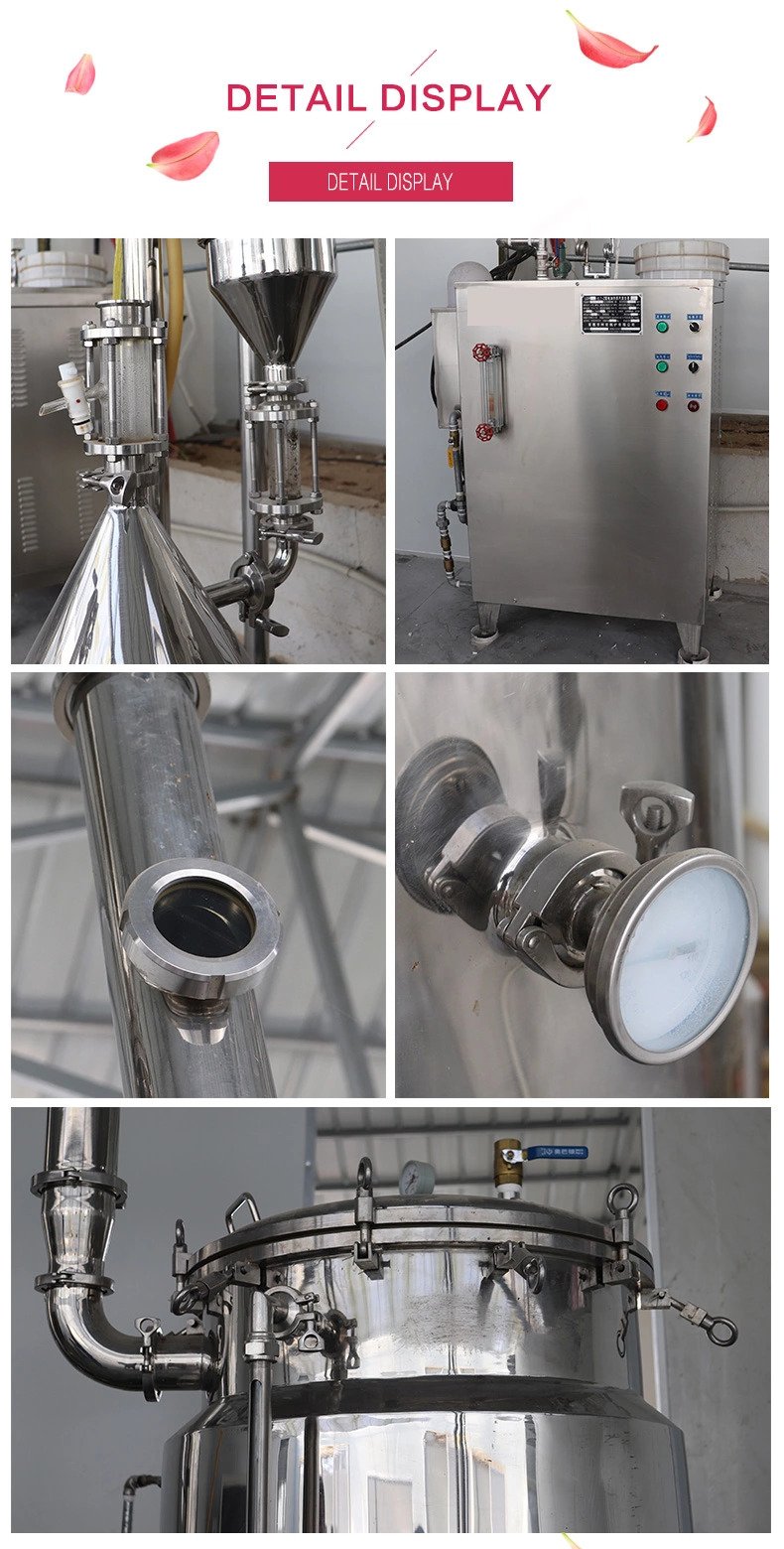 Raw materials:
Wide application: Essential oil distillation machine could used for vacuum distilling for the flower, plant, leaf, pericarp. such as Lavender , Rosemary , Pine and Fir Needles , Peppermint , Basil , Eucalyptus Leaves etc.
Custom Equipment 10-6000L: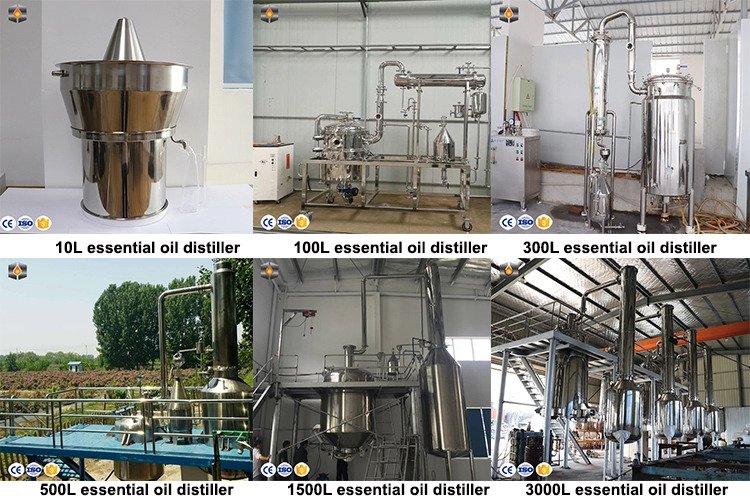 Packing & Delivery
Packaging Details:The normal package is wooden box. If export to european countries, the wooden box will be fumigated. Shipping Details:The normal shipping method is by sea. We also accept Air Transporting if you are in urgent need. You can contact your own shipping agent or ask us to arrange shipping for you.
FAQ
Q1: What is the Warranty for the machines? A1: 1 year for free. Q2: What is the Material? A2: Stainless steel. Q3: When can I get the price? A3: Within 24 hours, if urgent, please call us directly. Q4: Can there be more of a  discount? A4: In general, our MOQ is 1 set with very reasonable price, but if large order, give you a little discount. Q5: How to ask for quotation? A5: Please note us what type of raw materials , and how many kgs of raw materials you want to treat per batch, then we will send you a quotation as soon as we can. Q6: Can we ask the oil plant for different types of oil? A6: Yes, but we recommend no more than 3 different types. Q7: Essential oil plants require how large of a workspace? A7: The land area typically depends on the capacity of the plant. We can suggest an appropriate space to prepare after given specifications, or, can design the oil plant in-house specifically to the amount of workspace available. Q8: How long will it take to receive my products? A8: As a general rule, it will take one Month for us to produce. Q9: Do you offer oversea installation? A9: We'll send professional installation engineer to help you install the equipment, as well as training your workers.
We can customize this equipment to meet your required specifications. Do not hesitate to contact us with any questions.